Any uncontrolled abnormal growth of cells in the body which is causing damage to body tissue is termed as cancer. In the past decade cancer cases have raised to the top ranks of death-causing diseases, with a better diagnosis we are able to understand it's occurrence and growth in a better manner. it has got a separate department for itself as it comprises of many types, grades and can practically involve any part of the body. ...
Read More
Need Help? please fill and send us the enquiry in the below form
Help Us With Patient Details
Showing 128 Hospitals and their doctors

Filter
1
Indraprastha Apollo Hospital, New Delhi
Chat
Multi Specialty
1000

Number of beds
New Delhi
ABOUT HOSPITAL
Established in 1996, Indraprastha Apollo Hospital is NABL and JCI accredited. Apollo Group offers 10,000 beds across 64 hospitals, more than 2,200 pharmacies, over 100 primary care & dia...

Read More
Doctors for Cancer in Indraprastha Apollo Hospital, New Delhi
Senior Consultant
Medical Oncologist
26

years of experience
Consultant
Medical Oncologist
15

years of experience
Senior Consultant
Medical Oncologist
20

years of experience
2
Manipal Hospital (Old Airport Road) Bangalore
Chat
Multi Specialty
650

Number of beds
Bangalore
ABOUT HOSPITAL
Established in 1991, Manipal Hospital is the third largest healthcare network in India. It is NABH and NABL (ISQUA) accredited. It is also ISO 9001:2008 certified for all comprehensive pro...

Read More
Doctors for Cancer in Manipal Hospital (Old Airport Road) Bangalore
Consultant
Medical Oncologist
12

years of experience
3
Apollo Hospitals, Greams Road, Chennai
Chat
Super Specialty
Number of beds
Chennai
ABOUT HOSPITAL
This was the first oncology hospital in India and the first hospital in Chennai to be accredited by NABH. It was also the first hospital to have the proton cancer center in East Asia....

Read More
Frequently Asked Questions related to Cancer
Colon Cancer Treatment
Is colon cancer treatable?
Yes, colon cancer can be treated when it is being localized to the bowel. In most of the treatment option surgery is the only option
Can colon cancer be treated with medicine?
Yes, colon cancer can be treated using drugs which can either be given orally or directly in the blood stream. They are referred to as systematic treatment because they can directly reach the cancer cells almost all the body.
What is the duration of surgery?
The surgery normally takes 1 to 4 hours
Are there any chances of recurrence?
Most recurrences will occur within 2 years of surgery and 90% by 5 years.
When can I start walking, climbing stairs, and resume with my daily chores again?
You can resume your daily chores on going home but you need to avoid strenous exercised and lifts.After 1 to 2 weeks, you may be able to get back to most of your normal routine, such as walking and working.
Is colon cancer curable at Stage 3?
Colon cancer can be treated at stage three but there are only 40 percent chances of getting cure. Chemotherapy is being given after surgery in different stages of two, three and four because it has been shown to increase the survival rate.
How is colon cancer usually treated?
Surgical resection is the treatment choice of colon cancer this surgery is usually done in removing the cancer completely throughout the surgery. Surgery is being done to remove the cancer completely and in reconstructing the bowel.
Can colon cancer be treated by endoscope?
Polyps are being removed safely during cancer treatment, some of the very large polyps are also remove without surgery by using a endoscope. If you have got large polyps then polypectomy is being used in removing polyps.
How colon cancer is being treated at late stage?
When colon cancer spreads it will also spread to the lungs, brain, peritoneum (the lining of the abdominal cavity) and to the distant lymph nodes. If colon cancer has spread to nearby lymph nodes but not to other parts of the body, surgery may be used followed by chemotherapy. When the disease has spread to distant sites, chemotherapy may be used as the primary treatment, especially if surgery is unlikely to cure the cancer. If the disease has spread in the form of a small number of distant tumors, surgery may be used to help cure the disease or extend the patient's lifespan.
How colon cancer are being treated laproscopically?
In laproscopic treatment, laproscopes are being passed into the abdomen region when the patient is under anaesthesia. The incision made in the surgery are smaller and the recovery time is short than the standard colon surgery.
How colon cancer is surgically treated?
Surgery is the removal of the tumor and some surrounding healthy tissue during an operation. It is often called surgical resection. This is the most common treatment for colorectal cancer. In surgery the part of healthy colon or rectum and the nearby lymph nodes are also removed.
When will I have post-surgery follow up?
Follow-up visits for are usually scheduled every 3 to 6 months for the first 3 years and then every 6 months for the next 2 years. People treated for early stage cancer may be seen less often.
Will I be on some medications after the procedure?
Normally pain killers are given for 2 to 4 weeks after the procedure
What is colon cancer?
Colon cancer is the type of cancer which starts in the colon or rectum. This cancer is being found in the tissues of the colon.
How many days will I have to stay in hospital for my surgery?
Generally you are required to stay in the hospital for 3 to 4 days
Can it be performed in any any age group?
Most polyps are protusions in th elining of the intestine. Surgery is recommend after the disease is is dectected in the age group 50 to 75 yrs. Screening of colon cancer is done at this age.
Is it possible that the polyps can "fall off" without having to surgically remove it?
No polyps cannot fall or cure on its own. They turn cancerous if left untreated
What are the signs and symptoms of colon cancer?
Signs and symptoms of colon cancer includes diarrhoea or constipation, changes in stool consistency, blood in stool, bright red bleeding from rectum, abdominal pain, cramping, bloating, weakness, unexplained weight loss, iron deficiency anemia and irritable bowel syndrome.
Is colon cancer easy to detect?
With screening you can find colon cancer at an earlier stage. With regular screening colon can be prevented, because a small polyp will take around 10 to 15 years before they will develop into cancer.
Are there any restrictions after the procedure?
Be careful to avoid strenuous activity such as heavy exercise or lifting anything more than 20 pounds until you feel well, and your doctor gives his or her approval. Also, avoid taking baths or using hot tubs and swimming pools until your incisions have fully healed
What are some risk factors for colon cancer?
Some of the risk factors of colon cancer includes lack of regular physical activity, diet low in fruits and vegetables, low-fiber diet, overweight and obesity, alcohol and tobacco use.
How early does colon cancer need to be detected?
Colon cancer should be detected early at an age of 50 but there is an increased risk in those people who have family history of colon cancer.
How do you know if you had colon cancer early?
Some of the signs and symptoms of colon cancer includes rectal bleeding, fatigue, abdominal pain and unintentional weight loss.
Will removing the polyps cure the disease?
Polyps are often non-cancerous growths, but some can develop into cancer. Removing polyps can not only prevent colorectal cancer, but also reduce deaths from the disease for years, according to a new study.
Plan Travel to Treatment : Under One Roof
Transparent - Professional - Without Hassles
Vaidam Services
Transparent - Professional - Without Hassles
Our services are FREE and by using our services your hospital bill does not increase!
Patients From 85+ Countries Have Trusted Vaidam
Patients from 100+ countries have trusted Vaidam
Know Our Services
Treatment
Specialist option & Quote
FREE Tele Consult
Priority Admission
In hospital assistance
Post Procedure Followups
Travel
Visa Assistance
Airport Transfers
Verified Hotels near hospitals
Local Assistance
Other
Interpreter
FOREX
Visa Extension
Second Opinion
Discounts from hospitals
Videos related to Cancer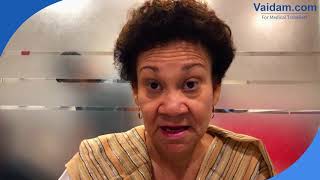 Mimmie Dunaiski from Namibia sharing her experience about Breast Cancer Treatment in India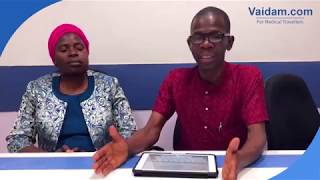 Patient's husband Anolrd Marunze from Zimbabwe sharing his experience about Oral Cancer Surgery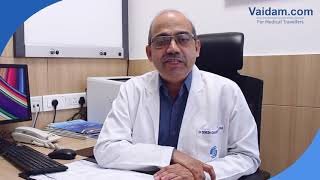 Breast Cancer Explained by Dr. Dinesh Chandra Katiyar of Venkateshwar Hospital, New Delhi