Inclusions in the package
The cost of Heart Transplant Surgery includes:
Preoperative diagnostic tests cost [some tests that may be required, including Echocardiogram, Electrocardiogram, Heart catheterization, Chest x-ray, etc.]

The surgery cost

Post-Operative cost (depends on the number of follow-up sessions)

Medicine cost (Immunosuppressants, Pain Killers, Antibiotics, etc.)

Cost of immunosuppressant injections (if required)

Patient's hospital stay
Note: Extra care is needed after a Heart Transplant since there is a risk of infection, so the patient may need to stay in a sterile environment during recovery.
Factors affecting cost of Heart Transplant
The overall cost of the procedure also varies based on the patient's condition and preferences. Some of these factors are:
Type of hospital and room opted (General, Twin sharing, or single room)

The severity of the disease

Additional tests may be needed

Post-surgical complication, if it happens (such as rejection, cardiac allograft vasculopathy, graft dysfunction, chronic kidney disease (CKD), etc.)

Cost of Blood products (if required)

An extended stay at the Hospital due to any health reason apart from the package stay period

Cost of accommodation during follow-ups, in case the patient is not a local resident
Cost related to Heart Transplant in Turkey
Listing approximate price of Heart Transplant and some related procedures. The prices may change depending upon the centers and condition of the patient.
Heart Transplant - Frequently Asked Questions
How much does Heart Transplant cost in different countries?
For patients planning to travel abroad it is useful to know the price in destinations popular with medical travellers. The price for Heart Transplant in different countries is approximately:
India USD 40000 to USD 60000
Israel USD 64000 to USD 96000
Malaysia USD 80000 to USD 120000
Leading Hospitals for Heart Transplant in Turkey
Doctors for Heart Transplant in Turkey
The right doctor to consult for a Heart Transplant case is a Cardiac Surgeon.
Listing popular specialists:
Success Rate
The overall survival rate after Heart Transplant is more than 85% after one year and about 69% after five years for adults.
It takes around three to six months for complete healing after a Heart Transplant. However, the age and general health of an individual also depend on the recovery period.
Plan Travel to Treatment : Under One Roof
Transparent - Professional - Without Hassles
Our Services for Heart Transplant in Turkey
Transparent - Professional - Without Hassles
Our services are FREE and by using our services your hospital bill does not increase!
Testimonial of our patients treated by Cardiac Surgeon
Frequently Asked Questions Related to Heart Transplant
Before the Procedure (15 Questions):
1

What are the steps in Heart transplant surgery?

Heart Transplant procedure consists of three stages: The first stage is harvesting the heart from the donor. The second removing the recipient's damaged heart And lastly is the implantation of donor's heart.
2

What are the Contraindication for heart transplant?

Contradictions are: Insulin-dependent diabetes with severe organ dysfunction Recent thromboembolism such as stroke Advanced kidney, lung, or liver disease Metastatic cancer Life-threatening diseases including acute infection or systemic disease such as systemic lupus erythematosus, sarcoidosis Vascular disease.
3

How is matching done for heart transplant?

When checking whether a heart is a good match the team will look at the quality of the heart, the size, and how well it matches blood and tissue type.
4

What are the risks associated with Heart Transplants?

The most common causes of death following a transplant are infection and rejection. With the exception of having to take lifelong medication to keep the body from rejecting the new heart.
5

What are heart transplant Rejection Symptoms?

General symptoms of heart transplant rejection are- Fever Fluid collection in lungs Decreased oxygen level in blood Shortness of breath.
6

How is the functioning of heart assessed?

Functioning of heart is assessed by: Echocardiogram - measures the Ejection Fraction or EF which is a measure of how well the heart is contracting. NT-pro BNP - a hormone that rises in the blood as a response to a failing heart.
7

Are the hospitals in your panel internationally accredited?

At Vaidam, we are proud to associate with several Joint commission international (JCI )accredited Indian hospitals in our panel. Also Vaidam is the first and only online medical facilitator in India accredited by NABH. This recognition is an acknowledgment to the quality of care being provided to patients, safety standards and services.
8

What is the survival rate for heart transplant patients?

85 to 90 percent patients live 2 years or more. 60% of them live for 5 years or more.
9

How long does it typically take for hospital to arrange for cadeveric donor for me?

Unfortunately, there can never be a commitment on how long one has to wait. It depends on a lot of factors - age, height, weight, blood group of the patient, Indian patients in waiting queue, International patients in waiting queue before the patient.
10

What is a heart transplant?

Heart transplant is the surgery to remove the disease part of heart from a person and then to replace it with a healthy heart from donor organ. Before you can start with your heart transplant the doctor makes sure that this is the best treatment choice for your heart failure.
11

Why might I need a heart transplant?

You may need a heart transplant if your heart is failing and other treatments are not effective. It is not effective in case if end-stage heart failure disease in which the heart muscles are severely failing in pumping blood throughout the body.
12

How long can you live with a heart transplant?

Heart transplant is a major surgery and its some of its complications can be life threatening. Among all the people undergone heart transplant the rate of survival is seen upto five years.
13

How serious is a heart transplant?

Heart transplant is a major surgery the risk of the surgery includes bleeding, infection, and blood clots in some cases there can also be rejection of donor heart.
14

How many hours does heart transplant surgery take?

Heart transplant can take less than four hours to be done while some complex procedures will take seven to nine hours to be done.
15

What are the some other causes of heart failure?

Some of the causes of heart failure incudes heart attack, viral infection, high blood pressure, heart valve disease, heart defects seen at the time of birth, irregular heart beats, high blood pressure in lungs, alcohol intake, low red blood cell count, chronic lung disease.
During the Procedure (4 Questions):
1

How long is the heart transplant procedure?

A heart transplant operation usually takes between 4-6 hrs.
2

How you can get ready for a heart transplant?

Before undergoing heart transplantation you have to undergo some tests which doctor will prescribe you such as blood test, diagnostic tests such as X-rays, ultrasound, CT scans. You should not eat or drink anything before six hours of the procedure.
3

How much time is taken for heart transplant?

A routine heart transplant surgery can be performed in less than four hours, while some complex ones may take seven to eight hours or even more than it.
4

What happens during a heart transplant?

Heart transplant is done under general anaesthesia, first a soft flexible tube will be placed in your bladder for draining urine. Another tube will be put through your mouth or nose into your stomach for draining stomach fluids. Once you are asleep, a breathing tube will be put through your mouth into your lungs. The tube will be attached to a machine (ventilator) that will breathe for you during the surgery. The skin over your chest will be cleaned with an antiseptic solution.
The surgeon will make an incision down the centre of your chest from just below the Adam's apple to just above the navel.
After that surgeon will cut the breast bone in half and they will then separate the two half of the breast bone and spread them apart to reach your heart.
The surgeon will put tubes into your chest so that your blood can be pumped through by a heart-lung machine.Once the blood has been completely diverted into the bypass machine eased heart.
The surgeon will sew the donor heart into place. Once your new heart is in place, it is being connected with the blood vessels carefully so there are no leakage.
When your new heart is fully connected, the blood circulating through the bypass machine will be allowed back into the heart and the tubes to the machine are removed.
Tubes will be put into your chest to drain blood and other fluids from around the heart. These tubes will be connected to a suction device to drain fluids away from the heart as it heals.
A sterile bandage or dressing will be applied.
Post the Procedure (6 Questions):
1

What can i expect after an heart transplant?

It takes about six to eight weeks for your incisions to heal.
2

How long does it take to recover after a heart transplant?

It generally takes three to six months to fully recover from heart transplant surgery.
3

What happens immediately after heart transplant?

Recovery after your heart transplant is similar to the recovery after any heart surgery. It takes about six to eight weeks for your incisions to heal. At first, you may have some muscle or incision discomfort in your chest during activity. Itching, tightness, or numbness along your incision are also normal.
4

How long are you in hospital after a heart transplant?

You'll usually need to stay in hospital for around 2 or 3 weeks after a heart transplant. Most people are able to start returning to many of their normal activities within a few months.
5

What are the disadvantages of heart transplant?

Heart transplant has lots of risks; it is possible that the heart transplanted will not work enough to maintain its circulation.
6

What are the risks of a heart transplant?

Risks of heart transplant includes infection, bleeding during or after surgery, blood clots, breathing problems, kidney failure and coronary allograft vasculopathy.
Treatment videos related to Cardiac Surgeon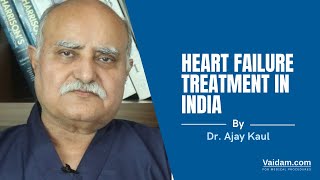 Heart Failure Treatment in India | Best Explained By Dr. Ajay Kaul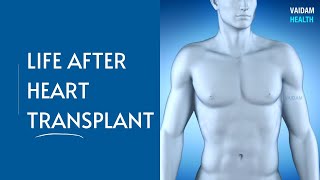 Life After Heart Transplant
Get FREE Evaluation Treatment plan and quote within 2 days