About Doctor


Dr. Avtar Singh, the founder of Amandeep Group, is an orthopedic surgeon with 30+ years of experience.


He has been honored by Former Prime Minister of India and Chief Minister of Punjab.


He is the first Indian Doctor to perform LIVE ROBOTIC KNEE surgery and world's first Punjabi surgeon to introduce Robotic Knee Replacement.


He has performed more than 15000 Joint Replacement Surgeries and more than 1.25 lacs Orthopedics surgeries till date.


He was awarded a fellowship of British Orthopedics Association in 2012.


He is a member of American Academy of Orthopedic Surgeon, life member of Indian Orthopedic Association and Punjab Orthopaedic Association and one of the founder members of Indian Society of Hip and Knee Surgery.


Dr. Singh started Closed Inter-locking Nailing in 1996. He started Micro-vascular surgery in Amritsar in 2001.


He has expertise in Robotic Knee Replacement, Total Hip Replacement, Non-Unions of bones, Revision Joint Replacement Surgery, Orthopedic Trauma, Arthroscopic and Sports Injuries, Foot and Ankle Surgery and more.


Videos Related to Dr. Avtar Singh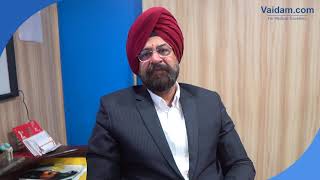 Lumbar Disc Disease Explained by Dr. A. A. Mehra of Amandeep Hospital, Amritsar
Specialization
Robotic Knee replacement,
Non Unions of bones,
Total Hip Replacement,
Revision Joint Replacement Surgery,
Orthopedic Trauma,
Arthroscopic and Sports Injuries,
Foot and Ankle Surgery
List Of Treatments
Elbow Replacement Surgery
Elbow Arthroscopy
Lateral Epicondyle Release (Tennis Elbow)
Fracture reduction and fixation
Osteotomy
Arthrolysis
Shoulder Replacement Surgery
Open Reduction of Fracture
Repair of Shoulder Rotator Cuff
Acromioclavicular Joint Repair
Repair of dislocations
Shoulder Labral Tears Surgery
Surgical decompression
Extensor mechanism realignment
Shoulder Arthroscopy
Arthroscopic Debridement of Calcium Deposits
Paget's Disease
Arthrotomy
Arthroscopic surgery
Reduction of fractures open
Closed Reduction for Fracture
Arthroplasty
Carpal Tunnel Release (CTR) Open or Endoscopic
Wrist Joint Replacement (Wrist Arthroplasty)
Knee Replacement Surgery
Unicondylar Knee Replacement
High Flex Knee Replacement
Minimally Invasive Knee Replacement Surgery
Revision Single Knee Replacement
Knee Arthroscopy
Knee Meniscectomy
Tibial Tubercle Transfer for Patellofemoral Arthritis
Orthopedic Stem Cell Treatment
Total Hip Replacement
Acetabular Fixation
Cemented Total Hip Replacement
Cementless Total Hip Replacement (THR) Surgery
Revision Hip Replacement
Hip Replacement with Computer Navigation
Minimally Invasive Hip Replacement
Bilateral Hip Replacement Surgery
Both Hip Replacement together
Birmingham Hip Resurfacing BHR
BHR with stem
BMHR
Minimally Invasive Hip Resurfacing
Hip Resurfacing with computer navigation
Leg Injury
Partial Hip Replacement Surgery - Unilateral Hip Replacement
ACL Reconstruction
Revision ACL Reconstruction Surgery
Patello Femoral Replacement
High Tibial Osteotomy
Lower femoral Osteotomy
Posterior Cruciate Ligament (PCL) Reconstruction
Arthrodesis
Septic Arthritis Treatment
Lateral Retinacular Release Surgery
Arthroscopic Menisectomy
Autologous Chondrocyte Implantation (ACI)
Meniscal Repair
Osteochondral Autografting - Mosaicplasty Surgery
Ankle Arthroscopy
Osteoarthritis - Stem Cell Treatment
Palmar Fasciectomy
Tendon Repair Surgery: Flexor Extensor
Thumb Arthroplasty
Tendon Transfer
Internal Fixation of Fractures
Pollicization Surgery
Repair of Digital Nerves
Synovectomy of Hand
Tenodesis tenolysis and tendon transfers and grafts
Boutonniere Deformity Treatment
Neurolysis Procedure
Ganglion Cyst Excision
Wondering where to start?
(Get Free opinion, Quote, Medical Visa Invitation and Assistance at every step of your treatment.)
---
Work Experience of Dr. Avtar Singh
Education
MS, Medical College, Amritsar
MBBS, Medical College, Amritsar
Awards
1. Honored by Former Prime Minister of India and Chief Minister of Punjab
How do you rate the information on this page?