Cost related to Tlif Surgery in Turkey
Listing approximate price of Tlif Surgery and some related procedures. The prices may change depending upon the centers and condition of the patient.
| Treatment name | Cost range |
| --- | --- |
| TLIF surgery | USD 14400 to USD 17600 |
Tlif Surgery - Frequently Asked Questions
Leading Hospitals for Tlif Surgery in Turkey
Doctors for Tlif Surgery in Turkey
The right doctor to consult for Transforaminal lumbar interbody fusion is an Orthopedic and Spine Surgeon.
Listing popular specialists:
Associate Professor, 20 years of experience
Spine Surgery, Trauma Surgery, Arthroscopy, Ilizarov, Deformity
Consultant, 20 years of experience
Emsey Hospital, Pendik
Rope Scoliosis Surgery (Non-Fusion Scoliosis Surgery) Spinal Canal Stenosis Waist Shift Cervical Disc Prosthesis Spinal Fractures Minimally Invasive Spine Surgery Laser - Endoscopic Discectomy Pediatric - Adult Spine Deformities
Success Rate
The success rate of Transforaminal lumbar interbody fusion varies between 80-84%.
Possible risks after TLIF, may include Infection, Excessive bleeding, Nerve damage, Blood clots, The bones may not fuse together well or new pain at the site of surgery.
Plan Travel to Treatment : Under One Roof
Transparent - Professional - Without Hassles
Our Services for Tlif Surgery in Turkey
Transparent - Professional - Without Hassles
Our services are FREE and by using our services your hospital bill does not increase!
Frequently Asked Questions Related to Tlif Surgery
Before the Procedure (7 Questions):
1

What is TLIF surgery?

TLIF is known as transformational lumbar interbody fusion, this surgery is done on the lower back area to remove intervertebral disc and for joining two or more spinal bone together using screws and cage.
2

Is TLIF a major surgery?

Yes, it is a major surgery it requires hospital stay for one to three days and after that physical therapies are given for your recovery.
3

What is the success rate of TLIF surgery?

The success rate of the patient is being improved upto 60 to 70 percent after spinal fusion surgery and nearly 80 percent of patients are satisfied with the result.
4

Why do you need TLIF surgery?

TLIF surgery is mainly advised to those patients who may some conditions such as disc prolapse which causes pressure on the roots of the nerve when one or more condition exist.
5

How diagnosis is made for TLIF surgery?

Proper history taking and neurological examination are the essential part of the surgery. The history obtained from the patient is an essential part of the surgery. In examination CT scan, MRI scan, standing X ray are taken.
6

What does TLIF treatment treats?

TLIF is the best treatment those patients who are suffering from spinal stenosis, lumbar caanal stenosis, black disc or nerve compression along with some pain on the lower back region.
7

When is Transforaminal Lumbar Interbody Fusion (TLIF) performed?

Transforaminal Lumbar Interbody Fusion is being done for treating numerous spinal disorders such as degenerative disc disease, herniated disc, spindylolisthesis and the conditions are also used in treatment of spinal cord or nerve root compression, spinal instability and weakness.
During the Procedure (5 Questions):
1

How long does TLIF surgery lasts?

TLIF surgery lasts for nearly three to six hours depending on the number of spinal levels involved in the surgery.
2

Which anesthesia is used for TLIF surgery?

This surgery is mainly done under general anesthesia, with patient lying down on the surgical table.
3

How TLIF surgery is done?

TLIF surgery is done by making a posterior incision which exposes the back of the spine. Pedical screws are placed into the vertebra and the disc space is exposed on one side by removing the facet joint and by protecting the nerve root once it enters to disc space the disc material are removed.
4

How long does a TLIF take?

TLIF surgery will take around three hours to be done under general anesthesia.
5

Who performs TLIF surgery?

TLIF surgery is being done by an orthopedics.
Post the Procedure (10 Questions):
1

How long does it take to walk after spinal surgery?

You can walk and move around the same day after surgery and there are chances that you will be discharged after one to four days of surgery. You will able to completely move your body after four to six weeks of surgery.
2

What should I do after TLIF surgery?

You should avoid doing strenuous activity such as bicycle riding, Jogging, weight lifting for two to four weeks after surgery. You should avoid riding in car for about more than thirty minutes for two to four weeks after surgery.
3

Will you have pain after the surgery?

Immediate after the surgery you will have some pain near the area where surgery was done. You will be provided with pain medications to make sure that you are comfortable. The leg pain which you are having before the surgery will be immediately improved.
4

When the stitches are removed after surgery?

Non dissolvable stitches are removed after five to ten days of surgery. Stiches will be covered by simple dressing or bandages.
5

When you should call for medical advice?

You may need medical attention if you see that fluid is leaking or there is redness seen at the site of wound or your dressing is soaked with blood and you are having high temperature or your pain is increasing and you are not able to move your legs.
6

How long patient have to stay in hospital after surgery?

Patients are required to stay in hospital for three to five days after the surgery.
7

Will you need to take any medications after surgery?

Yes, patients are needed medications for five days after surgery.
8

Will you need to wear braces after surgery?

In some cases, the surgeon may recommend using a spinal brace to help support the back while it heals.
9

When can you start doing exercise after surgery?

You have to limit your physical activities for few weeks after surgery and patients are told to encourage their activity level which they can easily do.
10

What precautions you have to take after TLIF surgery?

The fusion portion of TLIF will prevent the movement of spine at joint, you may feel stiffness at the level of TLIF. When the two vertebrae will fuse they will produce small amount of stiffness and if the fusion is long longer sect.
Treatment videos related to Spine Surgeon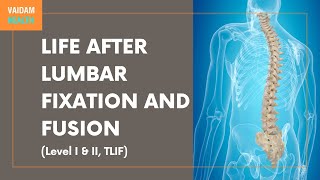 Life After Lumbar Fixation and Fusion (Level I, II and TLIF)
Get FREE Evaluation Treatment plan and quote within 2 days