Cost related to Spinal Laminectomy in Turkey
Listing approximate price of Spinal Laminectomy and some related procedures. The prices may change depending upon the centers and condition of the patient.
Spinal Laminectomy - Frequently Asked Questions
Leading Hospitals for Spinal Laminectomy in Turkey
Doctors for Spinal Laminectomy in Turkey
The right doctor to consult for Spinal Laminectomy is a Spine Surgeon.
Listing popular specialists:
Associate Professor, 20 years of experience
Spine Surgery, Trauma Surgery, Arthroscopy, Ilizarov, Deformity
Consultant, 20 years of experience
Emsey Hospital, Pendik
Rope Scoliosis Surgery (Non-Fusion Scoliosis Surgery) Spinal Canal Stenosis Waist Shift Cervical Disc Prosthesis Spinal Fractures Minimally Invasive Spine Surgery Laser - Endoscopic Discectomy Pediatric - Adult Spine Deformities
Success Rate
The success rate varies between 66-70%. Possible risks after Spinal Laminectomy may include Bleeding, Infection, Blood clots, Nerve injury, Spinal fluid leak, etc.
Plan Travel to Treatment : Under One Roof
Transparent - Professional - Without Hassles
Our Services for Spinal Laminectomy in Turkey
Transparent - Professional - Without Hassles
Our services are FREE and by using our services your hospital bill does not increase!
Testimonial of our patients treated by Spine Surgeon
Frequently Asked Questions Related to Spinal Laminectomy
Before the Procedure (12 Questions):
1

Does the surgery remove the entire disc?

The ruptured and damaged portion of the disc is only removed during the surgery which accounts for 10 to 20% depending on the extent of stenosis.
2

What are its different types?

Laminotomy- Treatment for nerve compression in the spinal cord
Hemilaminectomy - Removal of the lamina of the spinal canal of only one side
Open Laminectomy- Removal of a small portion of lamina to relieve pressure on the spinal cord.
3

Is Laminectomy a safe procedure? What are the chances of spinal damage during the process?

Laminectomy is a low-risk surgery with more satisfying results. The risk of bowel, bowel inconvenience is very low. Surgery and patient recovery are very safe.
4

What is the rate of success for laminectomy?
5

What are the benefits of the surgery?

After the surgery the patients will get relief from pain and be able to perform normal activities. However, in some cases there are chances of reoccurrence in the same disc or adjacent disc depending on the underlying cause.
6

What are the risks of Laminectomy?

Laminectomy is associated with risks of any operative procedure and some risks specific to the procedure. There are some short and long term risks of the procedure Bleeding and infection at the site of surgery Damage to the spinal cord Loss of bladder and bowel control Numbness of the legs Persistent back pain Spinal cord damage Tear in spinal cord may leads to leakage of cerebrospinal fluid
7

What is spinal laminectomy?

Spinal laminectomy is the surgery which is done for treating the symptoms of central spinal stenosis and narrowing of spinal canal, in this surgery all part of lamina is being removed to provide more space for the spinal cord which is already compressed.
8

How is a laminectomy used to treat spinal stenosis?

Spinal laminectomy surgery all part of the lamina and provides space for the compresses spinal cord and nerve roots, this surgery is done to remove pain caused by neural impingement because of spinal stenosis.
9

Why is Laminectomy Required?

Spinal laminectomy is usually done in those cases where patient has got spinal issues such as for relieving spinal stenosis. In spinal stenosis the spinal cord becomes narrowed and then it puts pressure on spinal cord along with root of nerves. It is developed because of shrinked spine disc, spine arthritis, swelling of bones and ligaments, spinal tumor, slipped disc and injury due to trauma.
10

Is it possible to get rid of the back pain and other symptoms completely after spinal laminectomy?

Yes, in most case getting relief from pain is much better than going back to do normal activities, even though the diseased vertebra and disc may not get completely normal there are chances of recurrence of problem.
11

Is there entire disk removal in laminectomy?

Entire disc is not removed in spinal laminectomy, only the ruptured and the diseased part of the disc is being removed by laminectomy which accounts for around 15 to 30 percent of the disc.
12

Is laminectomy dangerous? Is there chance of spinal harm during this process?

No, laminectomy is not dangerous it is safe procedure and maximum recovery is seen in most of the cases. If the patient completely follows the post surgery guidelines then the risk will be very less and patient will have less anxiety.
During the Procedure (5 Questions):
1

How many days will I have to stay in hospital for my surgery?

2-3 days in the hospital.
2

What is the duration of surgery?
3

How much time is needed for spinal laminectomy?

Spinal laminectomy surgery takes around four to six hours to be done depending on the complexity of the case.
4

Who performs spinal laminectomy surgery?

Spinal laminectomy surgery is being done by a highly qualified neurosurgeon or an orthopedic surgeon.
5

How spinal laminectomy surgery is done?

The steps followed during spinal laminectomy surgery are first the surgical site is being cleaned with antiseptic lotion and then small mini incisions are being made in middle of neck and back of patient. Lamina bones are being removed and with the help of bone spurs small fragements of disc are also removed. At last the incisions are closed with the help of stitches and sterile bandages are kept for covering the incisions.
Post the Procedure (6 Questions):
1

How much should you walk after a laminectomy?

Walking is the best activity you can do for the first 6 weeks after surgery. You should start out slowly and work up to walking 30 minutes at least twice a day. Do not be surprised if you require frequent naps during the day.
2

What can you not do after a laminectomy?

Avoid strenuous activities, such as bicycle riding, jogging, weight lifting, or aerobic exercise, until your doctor says it is okay. Do not drive for 2 to 4 weeks after your surgery or until your doctor says it is okay.
3

What you have to follow after post surgery guidelines?

The patient is being transferred to the operating room after the surgery and after the effects of anaesthesia wears patient gain consciousness and after they are asked to remain in resting position. The patient is told to start moving at earliest depending on the surgeon advice. Patient is advised to stay in hospital for two or three days after surgery.
4

What activities restrictions you have to follow after surgery?

The activities restricted after spinal laminectomy surgery are you should avoid strenuous activity such as climbing of stairs and then you can slowly increase your movements such as walking and you need to visit doctor for follow up. There is no need to scrub the incison site as it can harm the stitches which can cause infections.
5

In what situations you should immediately contact your doctor?

You should immediately contact your surgeon if you notice some symptoms such as chest pain, redness near the incision site, difficulty in breathing, fever, difficulty in urination and swelling around he legs.
6

What are the risks and complications of the surgery?

Some of the risks and complications of the surgery includes infection, drug reaction, formation of blood clot, bruises etc.

Risks And Complications

Since laminectomy is associated with the spinal cord, great care needs to be taken while performing the surgery. There are risks involved; even though enough precautions are taken. The general risks of laminectomy are listed here.
Treatment videos related to Spine Surgeon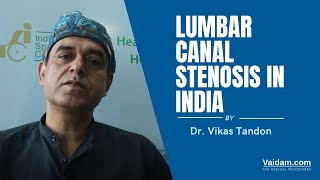 Lumbar Canal Stenosis Treatment in India | Best explained by Dr. Vikas Tandon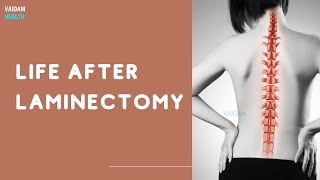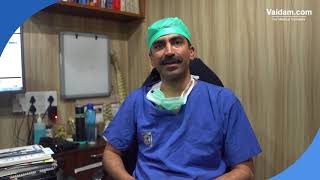 Lumbar Disc Disease Explained by Dr. A. A. Mehra of Amandeep Hospital, Amritsar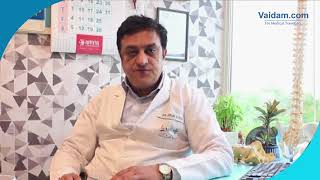 Spinal problems and treatments Explained by Dr. Arun Saroha
Get FREE Evaluation Treatment plan and quote within 2 days