Inclusions in the package
The cost of Slip Disc includes:
Preoperative diagnostic tests cost (X-ray or MRI may be done to evaluate the spine)

Surgery cost

Post-Operative cost (depends on the number of follow-up sessions)

Medicine cost (anti-inflammatory, painkillers, etc.)

Physiotherapy (a few sessions may be required in case of slip disc surgery)

Patient's hospital stay
Factors affecting cost of Slip Disc Spine
The overall cost of the procedure also varies based on the patient's condition and preferences. Some of these factors are:
Type of hospital and room opted (General, Twin sharing, or Single room)

The severity of the disease

Post-surgical complication, if it happens (such as Nerve injury and paralysis)

Cost of Blood products (if required)

Age of the patient

An extended stay at the Hospital

Cost of accommodation during follow-ups, in case the patient is not a local resident
Cost related to Slip Disc Spine in Malaysia
Listing approximate price of Slip Disc Spine and some related procedures. The prices may change depending upon the centers and condition of the patient.
| Treatment name | Cost range |
| --- | --- |
| Slip Disc | USD 6400 to USD 9600 |
Frequently asked questions related to expenses that most patients have when planing for Slip Disc Spine.
What is the cost of tests for slipped disc treatment?
A doctor does a CT scan and an MRI to determine the stage and location of the discs before the treatment. The cost for these tests is included in the package.
Is the medicine cost included in the package?
When the patient stays in the hospital, any medicines prescribed by the doctor are part of the package. However, medications bought outside the hospital after discharge are not included in the package.
How long does the patient stay in the hospital after slipped disc treatment?
You may need to stay 1 - 4 days at the hospital after the treatment. You should schedule an appointment a week or two after the treatment. Your doctor will also check your incision site for signs of infections or other complications.
How much does Slip Disc Spine cost in different countries?
For patients planning to travel abroad it is useful to know the price in destinations popular with medical travellers. The price for Slip Disc Spine in different countries is approximately:
India USD 3200 to USD 4800
Turkey USD 4000 to USD 6000
Thailand USD 5200 to USD 7800
Germany USD 8000 to USD 12000
Israel USD 14400 to USD 21600
Singapore USD 23200 to USD 34800
List of Centers for Slip Disc Spine in Malaysia
Popular Cities in Malaysia for Slip Disc Spine are:
Leading Hospitals for Slip Disc Spine in Malaysia
Doctors for Slip Disc Spine in Malaysia
The right doctor to consult for Slip disc is an Orthopedic Surgeon along with a Physiotherapist.
Listing popular specialists:
Plan Travel to Treatment : Under One Roof
Transparent - Professional - Without Hassles
Our Services for Slip Disc Spine in Malaysia
Transparent - Professional - Without Hassles
Our services are FREE and by using our services your hospital bill does not increase!
Treatment videos related to Spine Surgeon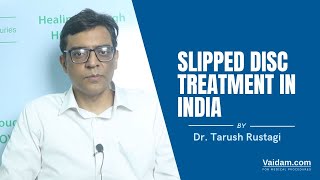 Slipped Disc Treatment in India | Best explained by Dr. Tarush Rustagi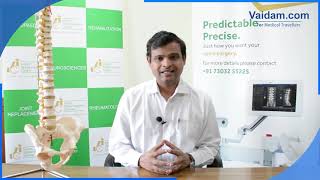 Slip Disc Explained by Dr. Gururaj M of Indian Spinal Injuries Centre, New Delhi
Get FREE Evaluation Treatment plan and quote within 2 days