Prostatectomy - Frequently Asked Questions
Leading Hospitals for Prostatectomy in Turkey
Doctors for Prostatectomy in Turkey
A board-certified urologist who has expertise in performing surgical procedures is the right doctor for Prostatectomy.
Listing popular specialists:
Success Rate
The 10-year survival rate post Prostatectomy is exceptionally good and close to 90%. Urinary tract infection, bleeding, erectile dysfunction, lymphocele are some of the complications that may occur after Prostatectomy.
Plan Travel to Treatment : Under One Roof
Transparent - Professional - Without Hassles
Our Services for Prostatectomy in Turkey
Transparent - Professional - Without Hassles
Our services are FREE and by using our services your hospital bill does not increase!
Testimonial of our patients treated by Urologist
Frequently Asked Questions Related to Prostatectomy
Before the Procedure (4 Questions):
1

What is Prostatectomy?

Prostatectomy is a surgical procedure which is being done for the partially or completely removing the prostate. The procedure of prostatectomy is also being done for treating prostate cancer or benign prostatic hyperplasia. In prostatectomy a small surgical incision is being made and the entire prostate gland is being removed.
2

Why prostatectomy is being done?

Mainly the process of prostatectomy is being used for treating the localized prostate cancer but it can be used alone or in combination with radiotherapy, chemotherapy and other hormonal therapy.
3

Is prostatectomy a major surgery?

Yes, prostatectomy is a major surgery because the entire prostate gland as well as surrounding tissues are being removed. You can expect some soreness and pain after surgery.
4

How serious is a prostatectomy?

The risk of prostatectomy is very rare, death or any serious disability caused by this disease are very rare. If it is done by skilled surgeons then the risks will be rare because the important nerves pass through the prostate on the way to penis.
During the Procedure (3 Questions):
1

Which anaesthesia is being used for prostatectomy?

Prostatectomy is being done under general anaesthesia, one night before the procedure you will be prescribed with antibiotics for preventing infection.
2

How simple prostatectomy surgery is being done?

In simple prostatectomy surgery a long flexible tube called as cystoscope is being inserted through the tip of your penis to see inside of urethera, bladder and the prostate gland. After that a tube is being inserted into the tip of your penis which extend into the bladder for draining urine. When the part of your prostate is removed which is causing symptoms then one or two temporary drain tubes may be inserted through that puncture in your skin. One tube will go directly into the bladder and the other goes into the area where prostate was removed.
3

How prostatectomy is being done?

Radical prostatectomy is being done to remove the entire prostate gland and the surrounding lymph nodes for treating men with localized prostate cancer. Prostatectomy is being done by different techniques:
Robot-assisted radical prostatectomy- In this technique the surgeon makes five to six small incision in the lower part of your abdomen to remove the prostate. When robotic device is being used it allows more precise movement with surgeon's hand.
Open radical prostatectomy- In this procedure an incision is being made in the lower part of your abdomen for removing the prostate. This procedure is being recommended for men having severe urinary symptoms and enlarged prostate gland.
Post the Procedure (4 Questions):
1

What are the side effects of a prostatectomy?

Side effects of prostatectomy includes bleeding, urinary tract infection, urinary incontinence, erectile dysfunction, narrowing of the urethera or formation of cyst.
2

What is the result of prostatectomy surgery?

If you have undergone robotic assisted prostatectomy it will reduce your pain, blood loss, reduce trauma to tissue. In simple prostatectomy you will get relief from urinary symptoms because of the enlarged prostate.
3

How much time is needed for recovery after prostatectomy?

It will take around four weeks after the surgery to recover completely.
4

What can you not do after prostate surgery?

You should not do any strenuous activity or lift any heavy objects for minimum one month after surgery. Many people take three to four weeks to recover completely.
Treatment videos related to Urologist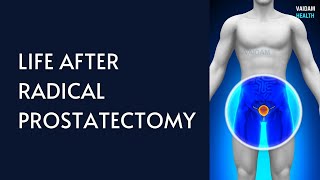 Life After Radical Prostatectomy
Get FREE Evaluation Treatment plan and quote within 2 days