Lumbar Microdiscectomy In United Arab Emirates Chat
Lumbar Microdiscectomy In United Arab Emirates Chat
Lumbar Microdiscectomy is a surgical procedure that relieves the pressure on a spinal nerve root by removing the material causing the pain. ...
Read More
Need Help? please fill and send us the enquiry in the below form
Help Us With Patient Details
Showing 25 Hospitals and their doctors

Filter
1
LLH Hospital, Abu Dhabi
Chat
Multi Specialty
750

Number of beds
ABOUT HOSPITAL
Founded in 2007, LLH Hospital is a multispeciality hospital based in Abu Dhabi, providing the highest level of medical excellence, it was established by Dr. Shamsheer Vayalil and is...

Read More
Doctors for Lumbar Microdiscectomy in LLH Hospital, Abu Dhabi
Spine Surgeon
Orthopaedic and Joint Replacement Surgeon
10

years of experience
2
Zulekha Hospital LLC - Sharjah
Chat
Multi Specialty
185

Number of beds
ABOUT HOSPITAL
Zulekha Hospital Sharjah is part of the Zulekha Healthcare Group that provides easy access to high-quality healthcare. It is a multi-speciality hospital with specialities such...

Read More
3
Cleveland Clinic, Abu Dhabi
Chat
Multi Specialty
364

Number of beds
ABOUT HOSPITAL
An extension of Cleveland Clinic in USA, the Cleveland Clinic Abu Dhabi was established in 2015 to provide services for complex and critical care and to develop a rich, world-class healthcare...

Read More
Frequently Asked Questions related to Lumbar Microdiscectomy
Micro Discectomy
What patients should not do after surgery?
Patients should not bend, lift anything or do any twisting motion for the first 2 to 4 weeks after surgery. They should also sitting in the same position for more than 45-60 minutes in the first few weeks after surgery.
Does Microdiscectomy lead to fusion?
No, Microdiscectomy does not leads to fusion the surgery is done mainly because the disc component is pressing on the nerve which causes pain, numbness and weakness.
How should I lay after Microdiscectomy?
You can sleep in any position you are comfortable with, some people prefer sleeping on their back, some by keeping a pillow between their knees or to support their back.
How long do you stay in hospital after a discectomy?
Approximately 2-3 days after the surgery you have to be in hospital when you think that you are feeling better then the doctor will discharge you.
When you can return to work?
You can return to your work within one to two weeks after the surgery
How long will the surgery be?
How Micro discectomy surgery is being done?
Micro discectomy is being done under general anaesthesia, first a breathing tube is being placed. A 1-2 centimeter longitudinal incision is made in the midline of the low back, directly over the area of the herniated disc. After the retractor is in place, an x-ray is used to confirm that the appropriate disc is identified.A few millimeters of bone of the superior lamina may be removed to fully visualize the disc herniation. The nerve root and neurologic structures are protected and carefully retracted, so that the herniated disc can be removed. With the help of small biting/grasping instruments the protruding disc material. All surrounding areas are also checked to ensure no additional disc fragments are remaining.The wound area is usually washed out with sterile water containing antibiotics. The deep fascial layer and subcutaneous layers are closed with a few strong sutures. The skin can usually be closed using special surgical glue, leaving a minimal scar and requiring no bandage.
Who performs Micro discectomy surgery?
Micro discecctomy surgery is being done bone by an orthopedic surgeon.
How much time is needed for surgery?
It will take approximately one hour for the surgery under general anaesthesia.
Can you lift weights after a Microdiscectomy?
The surgeons say you should avoid lifting anything more than 10 kg for 4-6 weeks after your surgery.
How soon can I drive after a Microdiscectomy?
Ask your doctor when you can drive again. Avoid riding in a car for more than 30 minutes at a time for 2 to 4 weeks after surgery. If you must ride in a car for a longer distance, stop often to walk and stretch your legs. Your time off from work depends on how quickly you feel better and on the type of work you do.
How long does a Microdiscectomy last?
Microdisectomy takes around one to two hours to complete.
Is a Microdiscectomy major surgery?
Yes, microdiscectomy is a major surgery, even though the recovery time of the microdiscetomy are faster and more invasive than other spinal surgery.
What is Micro Discectomy?
Micro discectomy is the surgery of the spine the surgery consists of removing the portion of the intervertebral disc, the herniated or the protruding portion of the disc that is compressing the traversing spinal nerve root.
How painful is a Microdiscectomy?
You may have mild to moderate pain after the procedure, the pain from the surgery usually subsides within one to two weeks. You will be given painkillers for managing pain.
How long does it take to recover from a discectomy?
Schedule a follow-up appointment with your surgeon for 1 week after surgery. Physical therapy may be necessary for some people.
The recovery time varies from 1 to 4 weeks depending on the underlying disease treated and your general health. You may feel pain at the site of the incision.
How soon can you fly after microdiscectomy?
Patient can safely fly back home after 10 days of the procedure.
What can you not do after a Microdiscectomy?
Do not do any running/jogging, vacuuming, weight lifting, sweeping/mopping, laundry, shoveling or raking, riding a lawn mower, wave runner or anything that might irritate your back until you have completely healed from your surgery. Do not drive for at least four weeks after surgery.
How do you relieve back pain after surgery?
Stretching exercises after back surgery.
What is the success rate of microdiscectomy?
Plan Travel to Treatment : Under One Roof
Transparent - Professional - Without Hassles
Vaidam Services
Transparent - Professional - Without Hassles
Our services are FREE and by using our services your hospital bill does not increase!
Patients From 85+ Countries Have Trusted Vaidam
Patients from 100+ countries have trusted Vaidam
Know Our Services
Treatment
Specialist option & Quote
FREE Tele Consult
Priority Admission
In hospital assistance
Post Procedure Followups
Travel
Visa Assistance
Airport Transfers
Verified Hotels near hospitals
Local Assistance
Other
Interpreter
FOREX
Visa Extension
Second Opinion
Discounts from hospitals
Videos related to Lumbar Microdiscectomy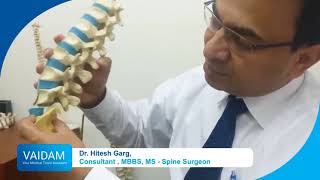 Dr Hitesh Garg on Spine Surgery Cases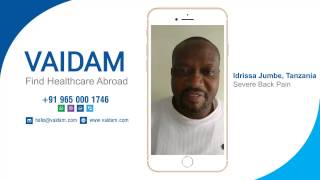 Mr Idrissa of Tanzania Narrates his Spine Decompression Surgery in India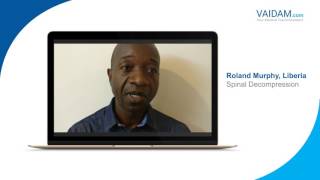 Roland Murphy from Liberia Talks About His Successful Spine Decompression Surgery in India