Early Onset Scoliosis (EOS) Scoliosis is an abnormal, side-to-side curve of the spine. The condition is often referred to based on the age of the child when the scoliosis is diagnosed: Early onset scoliosis includes, Congenital scoliosis, which is diagnosed at birth or shortly after birth. ...
Read More
Popular Hospitals in Kochi for Early Onset Scoliosis Surgery
Need Help? please fill and send us the enquiry in the below form
Help Us With Patient Details
Showing 4 Hospitals and their doctors

Filter
1
Aster Medcity Kochi
Chat
Multi Specialty
670

Number of beds
Kochi
ABOUT HOSPITAL
The hospital is the first and only facility in Kerala to offer advanced sports medicine services. It was also the first in Kerela to launch devices with cutting-edge technology such as K...

Read More
Doctors for Early Onset Scoliosis Surgery in Aster Medcity Kochi
Consultant
Paediatric Orthopedecian
25

years of experience
3
VPS Lakeshore Hospital, Kochi
Chat
Multi Specialty
500

Number of beds
Kochi
ABOUT HOSPITAL
Accredited with NABH, VPS Lakeshore Hospital is one of the largest and multi-specialty hospitals in Kerala. It is part of the international super brand "VPS Healthcare" which operates more than 2...

Read More
Frequently Asked Questions related to Early Onset Scoliosis Surgery
Scoliosis Spine Surgery
How much pain will I be in after surgery?
The intensity of pain after surgery varies from patient to patient, as surgery is a major procedure it involves movement of muscles and realigning of the skeleton. Usually the first few days of the surgery are uncomfortable but most people are able to move by third or fourth day of surgery.
Do the rods and other implants stay spine even after it has fused?
If rods are being used in fusion they are not usually removed, very few people require removal of rod. When removal of rod is needed there can be lot of reason for it such as a infection or breakage of rod.
When can I start walking, climbing stairs, and resume with my daily chores again?
Depending on your age you might be ready to return to work or school around 4 to 6 weeks after surgery. This timescale is different for each person. Many patients will be back to normal activity levels around 3 after surgery.
How many times will I need to visit the hospital after surgery?
Spinal surgery for scoliosis is a major operation and requires long recovery period. During this time post operative visits and follow up checkups are a must to ensure that the recovery is on track. The patient is called for follow up on 12 day of the surgery to remove any stitches and patient can return to home country after that.
Is wearing a brace must after this surgery?
A brace supports the spine and keeps it immobilized after surgery to enhance healing. With modern instrumentation techniques, the need for a rigid brace is much reduced. A corset or a soft brace can be used to support the muscles.
Will fusion in your back make you unable to move?
The portion which is being fused in your back is permanently stiff, most people usually works from the unfused portion in their lower back. If you are participating in any activity in which lot of flexibility is being required then it may take time to adapt.
What will be your restrictions after surgery?
You should limit yourself from avoiding lifting any heavy objects and you have to reduce the level of bending for the first 6 weeks after surgery.
How long does the surgery take?
Spine surgery will take around 4 to 8 hours depending on the size of patient's curve and the amount of spine which needs to be fused.
How fusion is being delayed by surgery?
This surgery is being done during the growing year of the child, rods are attached to the spine for correcting and maintaining the curvature of the spine. In every six to twelve month the child has to be taken for another surgery for lengthening of the rod. Once patient gets close to skeletal maturity, spinal fusion will usually happen.
What is involved with a spinal fusion surgery?
In spinal fusion surgery the curved vertebrae fuses and form into a single and solid growth. The bone growth will be stopped to prevent the curve from getting worse. Bone grafts are being placed between the bones to help on fusion when the bone grows together then a broken bone starts healing.
How many days will I have to stay in the hospital for my surgery?
Hospital stay is usually for 6 days.
How long will the surgery be?
Usually it takes four to six hours.
Is it worth getting scoliosis surgery?
Scoliosis surgery can correct your spine by 40 to 65% and it totally depends on your flexibility of your spine, type and size of the curve and their age.
I have back pain associated with my scoliosis. Will the surgery relieve it?
After the surgery you will have more pain than before but it will resolve with a period of few weeks to months. Most people get relief from back pain at one year after surgery as it was before.
Can scoliosis lead to paralysis?
Rarely does adult scoliosis alone cause paralysis or other severe neurologic problems, but it can be associated with lumbar stenosis (narrowing of the spinal canal or tube where the nerves lay), which can result in nerve irritation, leg pain and possibly weakness.
Can women patients bear children after surgery?
Yes, conceiving is not generally hindered after this surgery unless some other limiting factors are also involved. This surgery also does not mean that such women will have to undergo only C-section for delivery as it does not affect undergoing natural birth process.
Will the hump on the back straighten after surgery?
A hump in Scoliosis is usually due to the twisted spine becoming prominent or the bent of the ribs. Surgery makes this bent smaller but it will not totally disappear. The surgeon can give the exact picture of how much deformity will be improved after the surgery.
Do you stop growing after scoliosis surgery?
The choice of when to have surgery will vary. After the bones of the skeleton stop growing, the curve should not get much worse. Because of this, the surgeon may wait until your child's bones stop growing. Your child may need surgery before this if the curve in the spine is severe or is getting worse quickly.
Is scoliosis a major surgery?
Spinal fusion for idiopathic scoliosis is an extensive surgery that is often only considered as a last option. However, it is a major surgery and a big decision that should not be made without first considering all options.
Are the scars after surgery noticeable?
The length of the scar from spinal fusion surgery depends on the area and number of vertebra that are fused. It also depends on whether posterior or anterior approach has been used for surgery.In the posterior approach, you can typically expect a single scar of 6-12 inches while in the anterior approach, there could be 3-4 incisions measuring nearly 4-6 inches. However, this length varies from person to person
What are the chances of back pain after surgery?
Some patients have back pain after the spinal fusion surgery. It is normally in the upper back or lower spine region. However, it can be easily treated with exercise and other simple measures like medications. But in some cases revision surgery to ease back pain or remove the implants may be required.
How straight will my spine be after surgery?
As spinal bones protect the spinal cord, your surgeon will make your bone straight as long as it is safe. The degree of correction of the surgery depend on the flexibility of your scoliosis before surgery. If your curve is more flexible you will get more correction from surgery.
How successful is surgery for scoliosis?
Spinal scoliosis is a very successful surgery which helps in preventing the growth of spine.
Do I need surgery?
Yes, you may need spine surgery if your spine curve is greater than 45 to 50 degree because it may become worse when you grow up it can cause deformity in your back or may affect the functioning of your lungs.
How does this surgery affect the flexibility of my back?
Spinal fusion surgery reduces the flexibility of the back but this depends on which region of your back is fused and the length of the spine involved.Surgeries in upper cervical region limit movements of the neck while those in the middle impact forward bending slightly. Surgeries in the lumbar region affect flexibility and restrict certain movements.
What if i wait for some time and then proceed with the surgery?
Mild cases of scoliosis may not need treatment. But, moderate to severe scoliosis that is left untreated can lead to pain and increasing deformity, as well as potential heart and lung damage. Also, if it is the case of a young child, the deformity increases drastically with hormone changes happening during puberty.
Plan Travel to Treatment : Under One Roof
Transparent - Professional - Without Hassles
Vaidam Services
Transparent - Professional - Without Hassles
Our services are FREE and by using our services your hospital bill does not increase!
Know Our Services
Treatment
Specialist option & Quote
FREE Tele Consult
Priority Admission
In hospital assistance
Post Procedure Followups
Travel
Visa Assistance
Airport Transfers
Verified Hotels near hospitals
Local Assistance
Other
Interpreter
FOREX
Visa Extension
Second Opinion
Discounts from hospitals
Videos related to Early Onset Scoliosis Surgery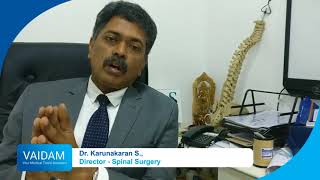 Dr. Karunakaran S. Elaborates on Scoliosis and its Treatment in India