The type of cancer that develops from the breast tissue and involves the mammary glands and other nearby muscles is known as breast cancer. Early symptoms of breast cancer are lump formation, thickening of the skin around nipples, pain, irritation of the skin, dimpling of the breast, in some cases blood or pus discharge. ...
Read More
Popular Cities in Malaysia for Breast Cancer
Need Help? please fill and send us the enquiry in the below form
Help Us With Patient Details
Showing 22 Hospitals and their doctors

Filter
1
Gleneagles Hospital, Kuala Lumpur
Chat
Multi Specialty
370

Number of beds
Kuala Lumpur
ABOUT HOSPITAL
Gleneagles Hospital, Kuala Lumpur is one of the leading hospitals in Malaysia and one of the first few private hospitals to be accredited by the Joint Commission International (JCI), the highe...

Read More
Doctors for Breast Cancer in Gleneagles Hospital, Kuala Lumpur
Consultant
Medical Oncologist
16

years of experience
2
KPJ Ampang Puteri Specialist Hospital, Ampang
Chat
Multi Specialty
200

Number of beds
Ampang
ABOUT HOSPITAL
KPJ Ampang Puteri Specialist Hospital is a premier hospital that is owned by the KPJ Healthcare Group, one of the leading providers of private healthcare in Malaysia. It is a multispecialty hospi...

Read More
3
Pantai Hospital Kuala Lumpur
Chat
Multi Specialty
335

Number of beds
Kuala Lumpur
ABOUT HOSPITAL
Pantai Hospital Kuala Lumpur is a premier healthcare hospital that has been serving people from all over the world for 47 years. It is a one-stop integrated healthcare provider that specialises p...

Read More
Frequently Asked Questions related to Breast Cancer
Breast Reconstruction with Implant
Can I breast feed after augmentation?
Yes, you can definitely feed after breast augmentation there is no damage to the lactiferous duct and mammary glands after breast augmentation.
How long does it takes for breast augmentation surgery to be done?
It will take around one to two hours for the surgery to be done.
When can I return to work?
It depends on the job which you are doing breast implant surgery usually do not recommend jaw movement like lifting heavy objects for one to two weeks after surgery. You should not lift any heavier object till 6 months of surgery.
What are the types of breast implants used in breast implant surgery?
There are two types of breast implant which are used in breast enlargement surgery:
Saline breast implants- Saline implants consist of an outer shell filled with sterile salt water. They are used in breast reconstruction for women of any age. They are also used in revision surgery for correcting and improving the result of original surgery.
Silicone breast implants-Silicone implants have an outer shell that is filled with silicone gel. Silicone implants are used in revision surgery for correcting the result of the original surgery.
Will the new implants affect my physical functioning, can I lift heavy objects?
You can easily do all your physical activities after your healing has been completed. There will be no effect of doing intense physical activity of your implant as your healing is completed.
When can I drive?
You can start driving one week after the surgery after you are not taking any pain medications.
How long until I can exercise?
Most patient can walk immediately after the surgery. They should not perform any intense physical exercise for six weeks after the surgery as they can shift the position of implant or may cause healing problem.
Will my nipple sensation or feeling change?
Many women complain of loss of nipple sensation after breast augmentation surgery which becomes normal after six to twelve months. 15 percent women feels some alterations in their nipple sensation.
Is there any side effect of breast implant surgery?
After your breast implant surgery you may have some pain, stiffness, redness, swelling, bruises in the breast region. All these side effect of breast implant surgery are temporary in nature and they go with time. You only have to avoid doing any physical activities for minimum of 2 weeks.
How much pain can I expect?
There is moderate pain after breast augmentation surgery in the first two weeks after surgery which can be easily controlled by taking pain medications.
How much does surgery cost?
The cost depends on the type of implant, the location of clinic, qualification of doctor, charges of anaesthetist.
How Breast implant surgery is done?
Breast implant surgery is done under general anaesthesia and it is completed within one to two hour. The following steps are being followed in breast implant surgery:
First an incision is made either in the fold of your breasts, under your arm and around your nipple.
Breast tissue is separated from muscles and connective tissue of the chest to make a pocket for inserting implants.
After inserting implants the incision are closed by non-stitch bandage till recovery.
Will breast augmentation increase my risk of breast cancer?
There is no studies which have shown that women who go for breast implant their chances of breast cancer increases. Implants delays the detection of breast cancer according to studies from National Cancer Institue.
How long does it take for breast implants to soften?
For breast implant to soften it will take around eight weeks to six months, if you think that your breast appears to be hard in more than six months you should visit your plastic surgeon. After surgery swelling can lead to firmness of newly placed implants.
Am I too old for the surgery?
There is no age limit for breast reconstruction some women who are in their late 40s and 50s have undergone breast augmentation and got good result of the procedure. Whatever age you are you should schedule your consultation with plastic surgeon and get your desired result.
Should I wait until I am done having children to have augmentation?
Pregnancy will change the size and shape of your breast whether implants have placed or not. You can go for breast implant after six months of the surgery. There is no damage to the mammary glands, you can breast feed your baby safely.
Will augmentation work for me if I feel my breasts are sagging?
Women whose breasts are sagging can also go for breast implant, depending on the amount of sagging of breast other surgery may be needed. For breast implant with nipples which are dropping with the breast level, breast lift surgery is needed for it. The additional surgery will remove the extra skin the placement of implant and the sagging.
How do I choose my new size?
During your consultation your surgeon will check your breast size and then suggest you the new size of the implant the new size of your implant will be two to three times your original size.
Modified radical mastectomy
How is modified radical mastectomy performed?
In the procedure of modified radical mastectomy the surgeon will remove breast, areola along with lymph nodes below the arm. The doctor will mark your chest and prepare for incisions, by making one incision across your chest the doctor will carefully pull your skin back for removing the breast tissue and they also remove the lymph nodes under your arm. Once your lymph nodes are removed, your doctor will examine them to determine whether cancer has spread to them or through them to other areas of your body. Your doctor will also place thin plastic tubes in your breast area to drain any excess fluid.
What are the complications of a radical mastectomy?
Complications related with modified radical mastectomy includes wound healing such as hematoma, infection, seroma and skin necrosis.
Which anaesthesia is given for modified radical mastectomy?
The procedure can be done under general anaesthesia.
How much time is needed to perform radical mastectomy?
The time taken to perform radical mastectomy will take around two to three hours.
Who usually gets a modified radical mastectomy?
Modified radical mastectomy is generally recommended to those patient whose breast cancer has spread to axillary lymph nodes. This is also an option for treating breast cancer but there can also be the reason for removing axillary lymph nodes.
What is the duration of surgery?
Depending on the location and the size of the tumour minimum 2 to 3 hours is the duration of surgery.
What are the most common side effects of the surgery?
Pain, swelling, constipation and bruises are the most common side effects of the surgery. To overcome this side effects you have to take medications and modify your diet.
How much pain is there after surgery?
Having pain after surgery is normal but you may also experience some discomfort your doctor may suggest you to take painkillers.
How much time is needed for recovery after surgery?
Recovery time of the surgery varies from patient to patient. Mostly patient remain in hospital for one to two days after surgery. The doctor may recommend you to perform radiotherapy or chemotherapy after the procedure.
What should I do after modified radical mastectomy?
You should take medications as prescribed by your doctor, you should do arm exercises daily. You should not lift any heavy objects and involve in any strenuous exercise.
How do you take a shower with mastectomy drain?
After any major surgery, sponge wash is commonly advised after 48 hrs if the incision is dry and bath with little water if your doctor allows. Its difficult to bathe during 1st week
How many days will I have to stay in hospital for my surgery?
Normally after consultation, evaluation, biopsy the decision is made for the surgery. Considering preanaesthetic evaluation 3 to 4 days of stay in hospital is required for the surgery.
What is modified radical mastectomy?
Modified radical mastectomy is the procedure in which the entire breast wall is removed including the skin, areola, nipple and the axillary lymph nodes. Hew years before this method was primarily used for the treatment of breast cancer.
What is the difference between a radical mastectomy and a modified radical mastectomy?
In simple mastectomy the breast tissue, nipple areola and the skin are removed but lymph nodes are not removed while in modified radical mastectomy the entire breast including breast tissue, skin, areola and nipple and most of the underarm lymph nodes are being removed.
Is there an affordable solution to having breast reconstruction? I was told about prosthetics, what do you advice?
Breast reconstruction requires a surgery, which take time and money, so women prefere breast prosthetics. Breast prosthetic allow you to get back to normal life early. Having said that, breast reconstruction can be done at the same time as breast removal surgery.. Hence, patient comes with a breast and can potentially go back with a breast.
Why am i NOT been offered breast conservation surgery?
Decision on the type of surgery is made depending on location and spread of cancer. If the surgeon can remove the tumour and leave the healthy tissue so that the shape of breast is little altered then Breast Conservation surgery is advised. Having said that, you can opt for immediate breast reconstruction after breast removal and both can be part of the same surgery.
Can breast tissue grow after mastectomy?
It all depends how your body adjusts after Mastectomy. A medical breakthrough, back in 2012, when Australian surgeons claimed to have such a case of breast tissue growth but breast reconstruction surgery is done most commonly
Can breast reconstruction be done at the same time as mastectomy?
Although both surgeries are done at separate intervals, but yes they can be done at the same time. Talk to the plastic surgeon about the advantages and disadvantages of it.
Who needs radical mastectomy?
This is used in surgery for breast cancer patient in which maximum or all of the lymph nodes placed under the and the lining of chest muscle re removed. In some cases surgeon also removes a part of chest wall muscle.
What are the signs of modified radical mastectomy?
The most common sign of modified radical mastectomy is presence or lump located in breast. Lump can be detected either by self examination or by physical examination of doctor.
How do you break scar tissue after mastectomy?
A lump of scar tissue is formed post surgery which can be broken by steroid injections or surgery (capsulectomy ), pressure treatment with an individually tailored elastic garment may help reduce a scar.
Which stage of breast cancers requires mastectomy?
Breast cancers are classified according to stage, invasiveness and location. Starting from Stage I cancers are treated with either lumpectomy or Mastectomy
When can i drive again after mastectomy?
Normally 6 weeks wait after surgery is recommend, depending on your recovery you can drive as early as after 3 weeks. You should note if there is any pain in the operated site while driving.
What should i wear in home after mastectomy?
You should plan to wear loose long dresses to disguise drains attached to the surgery site
How long do i have to wear the surgical bra after mastectomy?
Mastectomy bra offers a lot of comfort immediately following surgery. Mastectomy bras have soft inner linings, which won't rub against sensitive skin or scars as they heal; they have special pockets to accommodate a prosthesis as well. It should be worn fro 4 to 6 weeks
Which test is done to diagnose modified radical mastectomy?
The diagnosis for modified radical mastectomy is being made by biopsy, it determines the extent of cancer and its spread to the regional lymph nodes.
Can you sleep on your side after mastectomy?
The operated site is very senstive for few weeks. It will also have drains inserted. So it is not advisable to sleep on the operated site or on stomach for 2 weeks.
When can i start wearing bra again after mastectomy?
From Day 1 to day 6, body needs time to heal and drains need to be inserted in th opertaed site, so you need to wear comfortable special tops. Between week 2 to week 5 depending on body comfort you can start wearing bra
Plan Travel to Treatment : Under One Roof
Transparent - Professional - Without Hassles
Vaidam Services
Transparent - Professional - Without Hassles
Our services are FREE and by using our services your hospital bill does not increase!
Patients From 85+ Countries Have Trusted Vaidam
Patients from 100+ countries have trusted Vaidam
Know Our Services
Treatment
Specialist option & Quote
FREE Tele Consult
Priority Admission
In hospital assistance
Post Procedure Followups
Travel
Visa Assistance
Airport Transfers
Verified Hotels near hospitals
Local Assistance
Other
Interpreter
FOREX
Visa Extension
Second Opinion
Discounts from hospitals
Videos related to Breast Cancer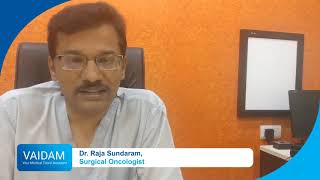 Dr. Raja Sundaram Explains the Various Advanced Diagnostic Procedures to Detect Breast Cancer and its Five Treatment Procedures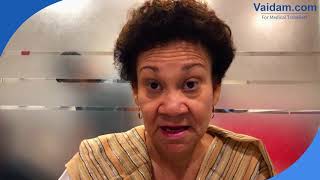 Mimmie Dunaiski from Namibia sharing her experience about Breast Cancer Treatment in India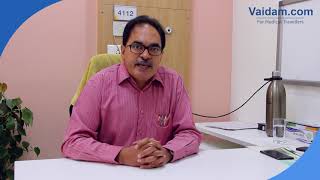 Breast Cancer and its Treatment Explained by Dr. Amit Bhargava of Nayati Medicity, Mathura