Abscess Drainage Cost In Turkey
Chat
Abscess Drainage is a treatment to drain out pus pockets under the tissues, organs, and spaces in the body. During Abscess Drainage, the surgeon drains out the pus with a needle by making a small incision into the skin where the abscess is detected. Afterward, he inserts a drainage catheter into the skin to drain out the pus into a bag. Before making an incision, the doctor sterilizes the affected area. Abscess Drainage cost in Turkey is between USD 3150 to USD 3850. Patient has to stay in the hospital for 1 days and outside the hospital for 5 days. The total cost of the treatment depends on the diagnosis and facilities opted by the patient.
Cost related to Abscess Drainage in Turkey
Listing approximate price of Abscess Drainage and some related procedures. The prices may change depending upon the centers and condition of the patient.
Show More
Frequently asked questions related to expenses that most patients have when planing for Abscess Drainage.
What are the tests included before abscess drainage and its cost?
The most common preoperative diagnostics are blood testing, physical examinations, ultrasonography, MRI, and CT scans. Diagnostic tests may also be included in your abscess drainage cost if planning for surgery.
Is the pharmacy and medicine cost included in the package?
Inpatients in hospitals are reimbursed for pharmacy and prescription fees. Aside from that, the package excludes medications purchased outside of the hospital.
How long the patient has to stay in the hospital after the abscess drainage?
Hernia repair surgery typically involves a 23-hour or shorter hospital stay. The majority of patients are discharged the same day. All patients require a follow-up consultation two weeks following surgery to confirm that their pain is under control and that no infections have developed.
Abscess Drainage - Frequently Asked Questions
How much does Abscess Drainage cost in different countries?
For patients planning to travel abroad it is useful to know the price in destinations popular with medical travellers. The price for Abscess Drainage in different countries is approximately:
India USD 560 to USD 840
Israel USD 6000 to USD 9000
Malaysia USD 1120 to USD 1680
Leading Hospitals for Abscess Drainage in Turkey
Doctors for Abscess Drainage in Turkey
Abscess Drainage, being an image-guided minimally invasive procedure, is performed by an interventional radiologist.
Listing popular specialists:
Success Rate
Many studies have shown that Abscess Drainage has a clinical success rate of above 95% with minor complications. The recovery after Abscess Drainage depends on the degree of severity. Proper wound instructions must be followed including bandaging, soaking, washing.
Plan Travel to Treatment : Under One Roof
Transparent - Professional - Without Hassles
Our Services for Abscess Drainage in Turkey
Transparent - Professional - Without Hassles
Our services are FREE and by using our services your hospital bill does not increase!
Frequently Asked Questions Related to Abscess Drainage
Before the Procedure (3 Questions):
1

When should an abscess be drained?

Abscess should be treated with heat or with oral antibiotics to revevalaute the need to drain after 24 to 48 hours.
2

Is abscess drainage an emergency?

Very rare abscess drainage is an emergency and it requires surgical treatment, in some cases it can be drained simply or in emergency.
3

What are the symptoms of a skin abscess?

The most common symptom of a skin abscess is a painful, compressible area of the skin may look like a large pimple or even an open pore. Some of the other symptoms of a skin abscess are swelling around the infected area, hardened outer layer of skin and in some case fever or chills if the infection is severe.
During the Procedure (4 Questions):
1

What happens before abscess drainage procedure?

Before abscess drainage procedure you have to start with an antibiotic therapy to help your body in treating infection and prevent it in getting anywhere else in the body.
2

How abscess drainage is done?

Before making the incision the doctor will clean and sterilize the affected area. Then local anaesthesia is being given, an incision is made through the numbed skin over the abscess and then pus is being drained out and the socket is cleaned with sterile saline solution. The abscess is left open but is covered with a wound dressing so that it absorb pus which is initially produced after the procedure.
3

What happens if the pus is deep or larger?

If the pus is deep or large a "wick" is to be placed inside to keep the abscess open which allows the tissue to heal properly from inside out and helps to absorb blood
4

Will the abscess come back?

A skin abscess, sometimes referred to as a boil, can form just about anywhere on the body. A blocked oil gland, a wound, an insect bite, or a pimple can develop into an abscess.
Post the Procedure (5 Questions):
1

How long does an abscess take to heal drainage?

Abscess drainage will take around 10-14 days to heal you have to follow all the instructions of your doctor such as repacking, soaking, washing or applying bandage over the wound for 7 to 10 days, healing depends on the size and severity if the abscess.
2

What to expect after draining an abscess?

After the abscess is drained you may expect little pus drainage for one or two days after the procedure, you will also be prescribed with some antibiotics which helps your body to fight against infections and also prevents subsequent infections.
3

What's the recovery after abscess drainage?

Recovery time from abscess drainage depends on the location of the infection and its severity. For few days guaze dressing has to be given over the wound incision of the abscess was large or deep. If the dressing is soaked then its need to be changed.
4

What precautions you have to take after abscess drainage?

For the first few days of the procedure you have to apply a warm dry compress over the wound for three to four times which can speed up the healing process. You may also be advised to gently clean the area with soap and warm water before putting on new dressing.
5

Are there other treatments that can be used to heal skin abscesses?

An abscess doesn't always require medical treatment. Milder abscesses may drain on their own or with a variety of home remedies.
Treatment videos related to ENT Surgeon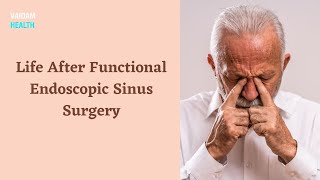 Life After Functional Endoscopic Sinus Surgery
Get FREE Evaluation Treatment plan and quote within 2 days