Dr. Suparno Chakrabarti
Hematologist
Senior Consultant ,

MBBS, MD

, 23 years of experience

New Delhi , India
About Doctor


Expertises are in field of Haematology and Bone marrow transplantation.


In the field of Haematology and BMT his work was appreciated by the Royal College of Pathologists that awarded him with the fellowship.


Peer Reviewer for several scientific journals including the Blood, Bone Marrow Transplantation, Hematologica, British Journal of Hematology, Clinical Infectious Diseases, Biology of Blood & Marrow Transplantation, JAMA, Lancet, & more


Member of many prestigious organisations such as American Society of Haematology, British Society of Blood and Marrow Transplantation.


Also a member of renowned scientific working group on ′QoL and Symptoms′ of European Haematology Association


Videos Related to Dr. Suparno Chakrabarti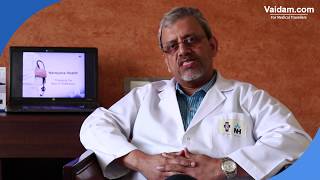 BMT Explained by Dr. Suparno Chakrabarti and Dr. Sarita Jaiswal of Dharamshila Narayana Hospital
List Of Treatments
Chemotherapy
Acute Lymphocytic Leukemia - ALL in Adults
Breast Biopsy
Hairy Cell Leukemia - HCL
Metastatic Tumors Treatment
Adrenal Cancer Treatment
Anal Cancer Treatment
Bile Duct Cancer Treatment
Bladder Cancer Treatment
Breast Cancer-Surgical
Cancer in Children
Carcinoma of Unknown Primary (CUP) Treatment
Castleman Disease Treatment
Cervical Cancer Treatment
Endometrial Cancer Treatment
Esophagus Cancer Treatment
Ewing Family of Tumors Treatment
Eye Cancer Treatment
Gallbladder Cancer Treatment
Gestational Trophoblastic Disease (GTD) Treatment
Hodgkin Disease Treatment
Laryngeal and Hypopharyngeal Cancer Treatment
Leukemia - Acute Myeloid AML
Chronic Myeloid Leukemia- CML
Leukemia in Children
Liver Cancer
Lung Cancer Treatment
Non-Small Cell Lung Cancer (NSCLC) Treatment
Small-cell Carcinoma Treatment
Lung Carcinoid Tumor Treatment
Skin Lymphoma Treatment
Malignant Mesothelioma Treatment
Multiple Myeloma Treatment
Nasopharyngeal Cancer Treatment
Neuroblastoma
Non-Hodgkin Lymphoma (NHL) Treatment
Oral Cavity and Oropharyngeal Cancer
Ovarian Cancer Surgery
Pancreatic Cancer
Penile Cancer Treatment
Prostate Cancer-Surgical
Retinoblastoma (RB) Treatment
Rhabdomyosarcoma (RMS) Treatment
Salivary Gland Cancer
Soft Tissue Sarcoma Treatment
Skin Cancer
Skin Cancer - Melanoma
Stomach Cancer Treatment
Testicular Cancer Treatment
Thymoma and Thymic Carcinoma Treatment
Thyroid Cancer Treatment
Uterine Sarcoma
Vaginal Cancer Treatment
Vulvar Cancer Treatment
Waldenstrom Macroglobulinemia
Wilms Tumor (Nephroblastoma)
Pediatric Bone Marrow Transplant
Oral Cancer - Surgical
Breast Cancer
Leukemia Treatment
Fallopian Tube Cancer
Ovarian Germ Cell Tumor
Ovarian Primary Peritoneal Cancer
Medullary Carcinoma
Papillary Thyroid Cancer Treatment
Ovarian Sex Cord Stromal Tumor
Invasive Lobular Carcinoma
Colon Cancer Treatment
Adenocarcinoma - Glandular Cancer Treatment
Immunotherapy
Radiotherapy
Chronic Lymphocytic Leukemia - CLL
IMRT
Chronic Myelomonocytic Leukemia - CMML
Small Intestine Cancer Treatment
Bone Marrow Cancer
Cancer Treatment
Breast Conservation Surgery - BCS
Breast Lumpectomy
Wondering where to start?
(Get Free opinion, Quote, Medical Visa Invitation and Assistance at every step of your treatment.)
---
Work Experience of Dr. Suparno Chakrabarti
Director, Apollo, Geneagles Hospital, Kolkata, 2013
Principal Consultant, St.George Hospital, London, 2009
Principal Consultant, City Hospital Birmingham, 2003
How do you rate the information on this page?