Dr. Sonia Malik
IVF Specialist
Infertility Specialist
Chairman ,

MD, DGO, MBBS

, 33 years of experience

Gurgaon , India
About Doctor
Dr Sonia Malik is one of the most experienced & respected Obstetrics & Gynaecologist in India.
She has a thriving experience of over 33+ years & has executed over 7000 ART Cycles .
She performs over 15-20 IUI Cycles and
...
Read More
Videos Related to Dr. Sonia Malik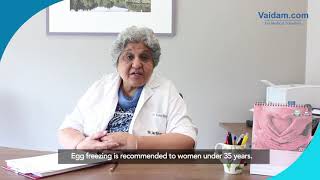 IVF Explained by Dr. Sonia Malik
Specialization
Obstetrics & Gynecologist Infertility Specialist
IVF,
ICSI,
IMSI,
Reproductive Endocrinology & Immunology,
Genital Tuberculosis
Premature Ovarian Failure
List Of Treatments
Fertility Surgeries
Fibroid Removal Surgery
Myomectomy Surgery
Operative Laparoscopy
Laparoscopic Vaginal
... Read More
Wondering where to start?
(Get Free opinion, Quote, Medical Visa Invitation and Assistance at every step of your treatment.)
---
Work Experience of Dr. Sonia Malik
Senior Consultant
Consultant, Fortis La Femme , 2005
Consultant, Mother & Child Hospital , 1995
Consultant, Holy Angels Hospital, Vasant Vihar , 1987
Consultant, Samran Hospital, Saudi Arabia, 1984
Professor, Medical College, Basrah, Iraq, 1979
Education
MD, 1979, Maharishi Dayanand University, Rohtak
DGO, 1977, Maharshi Dayanand University, Rohtak
MBBS, 1973, Punjab University, Chandigarh
Awards
She has received IMA LIFETIME ACHIEVEMENT AWARD Has been awarde Dr Jagdishwari Prasad Mishra OBST &Gynae Award & Oration She has been awarded by IMA South Delhi for Professional... Read More
Frequently Asked Questions About Dr. Sonia Malik
Dr. Sonia Malik practices at Southend Fertility and IVF, New Delhi
Yes, Dr. Sonia Malik does online consult. Patient can select Tele-consult or At Hospital while submitting the appointment request.
Dr. Sonia Malik specialty is IVF Specialist
Dr. Sonia Malik is IVF Specialist with 33 years of experience.
Consultation fees of Dr. Sonia Malik is 1500. However it is advised to check the fees before booking the appointment.
Dr. Sonia Malik is MD, DGO, MBBS.
More About IVF Specialist
An IVF specialist can treat infertility in the patients having Blocked or damaged fallopian tubes, Male factor infertility including decreased sperm count or sperm motility and women with ovulation disorders, premature ovarian failure, uterine fibroids etc.
Some causes of infertility can't be cured but mostly where spontaneous pregnancy doesn't happen, couples can often achieve a pregnancy through the use of assisted reproductive technologies.
In vitro fertilization may not be siutable for everyone. Conditions that may interfere with IVF success include fibroid tumors, ovarian dysfunction, abnormal hormone levels, and uterine abnormalities. Women with these issues may face lower rates of pregnancy with IVF.
If you or your spouse has an infertility problem, you may be able to receive eggs or sperm from a donor to help you conceive and the treatment with donor eggs is usually done by IVF.
There are few drugs like Clomiphene citrate, Gonadotropins, Metformin, Letrozole, Bromocriptine etc but they should be taken under the doctor's guidance.
How do you rate the information on this page?
Average
5

based on

2

ratings.