Acute Myeloid Leukemia ( AML) and Cost in India
Acute myeloid leukemia is a cancer of the immature forms of myeloid cells in the bone marrow. This type of cancer is characterized by abnormal and fast growthof white blood cells within the bone marrow that spreads to other parts of the body like liver and spleen. AML is also known as acute myelocytic leukemia, acute myelogenous leukemia, acute granulocytic leukemia and acute non-lymphocytic leukemia.
Here we list most frequently asked information about Acute Myeloid Leukemia Treatment. In case you have any further questions or would like any other assistance, feel free to write to us.
Acute Myeloid Leukemia ( AML) Cost In India
Acute Myeloid Leukemia ( AML) Price

USD 18,000

No. of Travellers

2

Days in Hospital

21

Days Outside Hospital

21

Total days in India

42
Click here
to select your country for adding return airfare and visa fee to the package
More About Acute Myeloid Leukemia
Classification of Acute Myeloid Leukemia
The following classification is made according to the type of blood cells AML affects:
Occurs in immature white blood cells
Undifferentiated acute myeloblastic leukemia

Acute myeloblastic leukemia with minimal maturation

Acute myeloblastic leukemia with maturation

Acute promyelocytic leukemia

Acute myelomonocytic leukemia

Acute myelomonocytic leukemia with eosinophilia

Acute monocytic leukemia
Occurs in immature red blood cells
Immature cells which later form platelets
Acute megakaryoblastic leukemia
Symptoms of Acute Myeloid Leukemia
Anemia causing exhaustion, dizziness, paleness, shortness of breath

Frequent infections that heal slowly because of the lack of healthy white blood cells.

Bleeding or bruising due to low platelet count.

Bone pain

Swollen lymph nodes

Swollen gums

Chest Pain
Risks of Acute Myeloid Leukemia
Smoking

Exposure to benzene for a long period of time

Exposure to high ionized radiation

Certain blood disorders, like, polycythemia vera, idiopathic myelofibrosis and others.

Syndromes that cause genetic mutations at birth, for instance, Down Syndrome.

Medical history of close family members such as parents or siblings.
Diagnosis of Acute Myeloid Leukemia
Blood Test to check the blood count of the patient
Bone Marrow Test to determine the patient's medical condition to be leukemia
Lumbar Puncture or spinal tap to check whether there is a spread of AML in the cerebrospinal fluid.
X-ray,
CT Scan to check for swollen lymph nodes
MRI to look for any affected areas in and around the brain and spinal cord.
Ultrasound to see whether any internal organs of the body have been affected or not.
Treatment of Acute Myeloid Leukemia
Acute Myeloid Leukemia is treated in two phases. The first phase, known as the remission therapy, aims to kill the AML cells in the patient's body. The consolidation therapy is the second phase kills the remaining leukemia cells so as to avoid the risk of recurrence.
Chemotherapy:Chemotherapy is provided as the first phase of AML treatment. The patient generally stays in the hospital during this time. Chemotherapy drugs are provided to the patienteither in the form of pills or are injected directly into his/her veins.
Stem Cell Transplant: After destroying the AML cells, the patient has to undergo a stem cell transplant as part of the second phase of the treatment. In this treatment, stem cells are harvested either from a donor or the patient himself and are frozen till required.The stem cells are then injected to the patient's body that reach the bone marrow and begin producing healthy blood cells.
Factors Affecting the Cost of Acute Myeloid Leukemia Treatment
The following factors affect the treatment cost of Acute Myeloid Leukemia: 
The hospital, the patient chooses.

Room –Standard single room, deluxe room, super deluxe room for the number of nights specified (including nursing fee, meals, room rate, and room service).

The type of acute myeloid leukemia suggested by the hematologist.

Fee for the team of doctors.

Medicines.

Standard test and diagnostic procedures.

Cost of the follow –up care required after the procedure.
Top Doctors For Leukemia - Acute Myeloid AML Treatment in India View all (17)
Choose specialists in a city
Selected :
Top Hospitals For Leukemia - Acute Myeloid AML Treatment in India View all (63)
Choose hospitals in a city
Selected :
Need Specialist Opinion and Personalized Quote? For FREE
We have helped patients from 60+ countries
Featured In
Videos Related to Leukemia - Acute Myeloid AML In India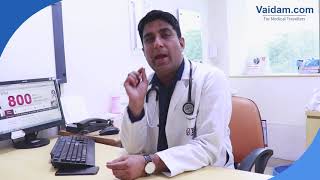 Acute Leukemia Explained by Dr. Dharma Choudhary of BLK Hospital, New Delhi
Pediatric AML Explained by Dr. Vikas Dua of FMRI, Gurgaon
Patient Testimonials For Oncology And Oncosurgery Procedures in India
Patient Testimonial
Baby Anshu Timsina from Nepal finds the Best Line of Treatment for Thalassemia Minor in India at Medanta Hospital. After a careful treatment plan in Medanta Hospital, 2-year-old regains her lost strength with timely medication.
2-years-old from Sudan Gets a Successful Bone Marrow Transplant in India. After toiling hard for a long time, Hasan finally got a successful treatment at FMRI.
Bone Marrow Transplant | Sudan
Priyanka Chhaya from Mauritius gets rid of Acute Myeloid Leukemia by Blood Transfusion. Priyanka was sick for several months and finally got treated by Dr. Nitin Soon at Medanta Hospital.
How do you rate the information on this page?
Thank you. We will contact you soon.